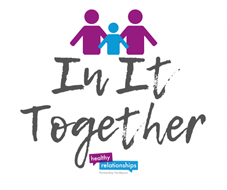 From April 29th to the 3rd of May we ran a campaign across our social media channels aimed at providing resources and advice to parents of children with additional needs. #InItTogether was intended to raise awareness and strengthen these relationships too, especially via our 3 specialised blog posts from actual parents sharing their own top tips.
Our blog posts were the main feature of the campaign, featuring local parents from Hartlepool who are currently bringing up children with various additional needs. This content ended up being the most viewed and valuable of all our content that week. Read each post here:
Teamwork, humour and routines – All Ingredients for a Strong Couple Relationship!
Jamie & Marie – How to keep the relationship strong when one of your children has additional needs…
"It's remembering that we're in this together" – Alison's Top Relationship Tips
We also concentrated on making people aware of our website resources already available for families, all of which can be found here
The campaign had a feature on BBC Radio Tees with our own Jayne Moules and local mum of 2 Alison chatting about the ins and outs of the campaign. Listen here:
Hartlepool Mail also took a keen interest and gave us a medium sized feature chatting to Jayne.